Case Studies

Case Study Collection Process

The ITRC Mining Waste Team collected case studies from mine sites throughout the United States and one from New Brunswick, Canada using an online survey tool. The survey contained a total of 23 questions concerning the following specifics:
contact name
site location
affected media
regulatory drivers
all technologies used
performance
cost
cleanup goals or performance criteria
contaminated media treated
scale of each technology: experimental, pilot, or full-scale application
any public issues
regulatory barriers encountered with the application(s)
After the initial submittal, team members conducted follow-up as much as possible. Even so, there are some sections of particular case studies that contain limited or no information. The case studies reflect what was received in the initial survey and follow-up by team members. Some case studies are more detailed than others, which again, is a reflection of what was obtained. We highly recommend that users of this web-based selection tool contact people listed in the case studies to receive up-to-date information on the application. Regardless of the follow-up completed, a case study is still a snapshot and is dated at the time of publication. The objective of the survey was stated as follows:
The ITRC Mining Waste Team is collecting case studies of tests and full scale operation of technologies used to treat contaminants of concern in mining-related material. We hope to obtain, at a minimum, a description of the technology, a brief background of the site, and a way to contact someone familiar with the technology in order to obtain follow-up information. These case studies will provide the ITRC Mining Waste Team a snapshot of information on emerging, innovative, or new applications of conventional technologies being used or tested to treat mine-related solid waste and mine-impacted water. The ITRC team will use these case studies as a part of their process to evaluate what technologies are being tested and how the technology is performing.
The survey request was sent to the ITRC Points of Contact, DOE, DOD, EPA, ITRC Industry Affiliates Program members, and ITRC Mining Waste Team members. Team members also forwarded the Case Study Survey request to colleagues. The initial survey period was from March 21, 2008 to May 2, 2008 but was extended upon request and as necessary. Throughout the project, the team identified applicable examples and obtained further case study write-ups.
This table contains a list of all case studies in the Mining Waste Technology Selection Website. Each case study is listed according to the states (alphabetically). Each state on the map is hyperlinked to the following table.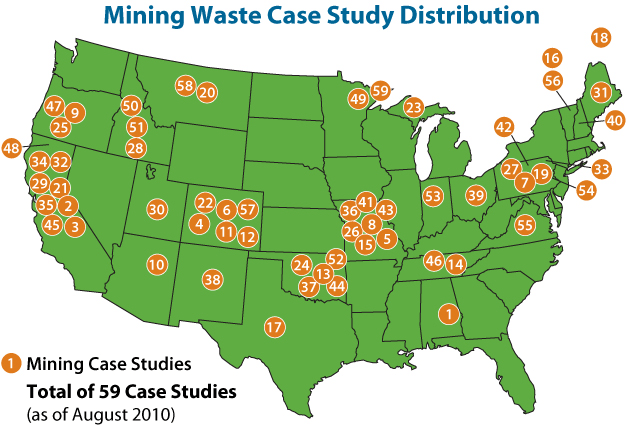 Case Study

Technology

Map #

Microbial Mats; Anoxic Limestone Drain; Administrative and Engineering Controls

1

Phytotechnologies

10

Biochemical Reactor

2

Chemical Precipitation

3

Biochemical Reactor

21

Capping, Covers and Grading; Chemical Precipitation

29

Constructed Treatment Wetlands

32

Capping, Covers and Grading; Microbial Mats; Excavation and Disposal

34

Aeration; Administrative and Engineering Controls

35

Constructed Treatment Wetlands

45

Biochemical Reactor

48

Chemical Precipitation

4

Anoxic Limestone Drain

6

Chemical Precipitation

11

Capping, Covers and Grading; Biochemical Reactor; Excavation and Disposal

12

Microbial Mat

22

Chemical Precipitation

57

Chemical Precipitation

28

Excavation and Disposal; Capping, Covers and Grading

50

Chemical Precipitation

51

Constructed Treatment Wetlands; Anoxic Limestone Drains; Capping, Covers and Grading

53

Capping, Covers and Grading; Administrative and Engineering Controls

31

Capping, Covers and Grading; Administrative and Engineering Controls

23

Ion Exchange

49

Capping Covers and Grading; Constructed Treatment Wetlands; Diversionary Structures

59

Chemical Stabilization; Excavation and Disposal; Administrative and Engineering Controls

5

Capping, Covers and Grading

8

Capping, Covers and Grading; Backfilling & Subaqueous Disposal

15

Capping, Covers and Grading; Backfilling & Subaqueous Disposal

26

Capping

36

Capping, Covers and Grading; Chemical Stabilization; Excavation and Disposal; Administrative and Engineering Controls

41

Capping, Covers and Grading; Re-Use and Reprocess: Excavation and Disposal

43

Passivation

20

Chemical Precipitation

58

Chemical Precipitation

18

Chemical Stabilization; Administrative and Engineering Controls

40

Biochemical Reactor

38

Multiple Technologies; Administrative and Engineering Controls

39

Constructed Treatment Wetlands; Administrative and Engineering Controls; Biochemical Reactor; Aeration

13

Constructed Treatment Wetlands; Anoxic Limestone Drain

24

Excavation and Disposal; Capping, Covers and Grading; Backfilling & Subaqueous Disposal

37

In Situ Treatment

44

Re-Use and Reprocess; Backfilling & Subaqueous Disposal; Administrative and Engineering Controls

52

Capping, Covers and Grading; Administrative and Engineering Controls

9

Excavation and Disposal; Capping, Covers and Grading; Administrative and Engineering Controls

25

Excavation and Disposal

47

Excavation and Disposal; Constructed Treatment Wetlands2; Capping, Covers and Grading

7

Anoxic Limestone Drain; Chemical Precipitation

19

Capping, Covers and Grading; Excavation & Disposal

27

Biochemical Reactor

33

Pressure Driven Membrane Separation

42

Chemical Precipitation

54

Multiple Technologies; Administrative and Engineering Controls

14

In-situ Biological Treatment

46

Microbial Mats

17

Pressure-Driven Membrane Separation

30

Capping, Covers and Grading; In Situ Biological Treatment; Administrative and Engineering Controls

16

Chemical Precipitation

56

Excavation and Disposal; Constructed Treatment Wetlands; Anoxic Limestone Drain; Capping, Covers and Grading

55