Case Study as part of a Web-based Technical and Regulatory Guidance
Golf Tunnel Mine
Buena Vista, Colorado
1. Site Information
1.1 Contacts
Dr. Peter Phillips
Associate Professor of Biology
Winthrop University, Rock Hill, SC
803-323-2111 Ext.6183
E-mail: [email protected]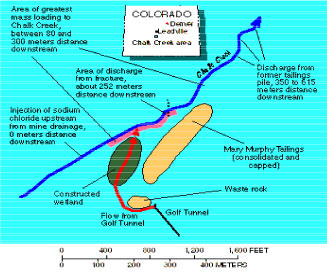 Figure 1-1. Golf Tunnel location map.
(
Source:
Kimball 1997)
1.2 Name, Location, and Description
Golf Tunnel, in Buena Vista, Colorado (Figure 1-1).
2. Remedial Action and Technologies
Lagoon treatment using microbial mat, otherwise known as a cyanobacteria, in situ phytoremediation technology. The contaminants of concern include the following:
12,050 mg/kg Mn
30,300 mg/kg Zn
Ag, Cd, Cu, Cr, Ni, Pb, and Fe
The treatment rate was 40 liters per minute on a 1900 ft2 pond.
3. Performance
Passivation appears effective on freshly mined surface to reduce the acidity and metals concentration by over an order of magnitude over many months. It is not as effective on weathered and oxidized surfaces. Unfortunately, the tests were stopped prematurely die to mine expansion.
4. Costs
The costs during the pilot test were <$60,000 for the 40,000 ft2 contained. Full scale is expected to be considerably less, but data are not available.
5. Regulatory Challenges
None reported.
6. Stakeholder Challenges
None reported.
7. Other Challenges and Lessons Learned
None reported.
8. References
Kimball, B. A. 1997. "Use of Tracer Injections and Synoptic Sampling to Measure Metal Loading from Acid Mine Drainage." U.S. Geological Survey Fact Sheet 245-96. http://ut.water.usgs.gov/publications/fs245-96.