Case Study as part of a Web-based Technical and Regulatory Guidance
Sunshine Mine
Shoshone County, Idaho
1. Site Information
1.1 Contacts
Vance Weems
Ionic Water Technologies
Telephone: 775-321-8101
Timothy Tsukamoto, Ph.D.
Telephone: 775-321-8101
1.2 Name, Location, and Description
The Sunshine Mine is an underground silver mine located between the towns of Kellogg and Osburn, in Shoshone County, Idaho. The Sunshine Mine is in the Coeur D'Alene mining district of the Idaho panhandle.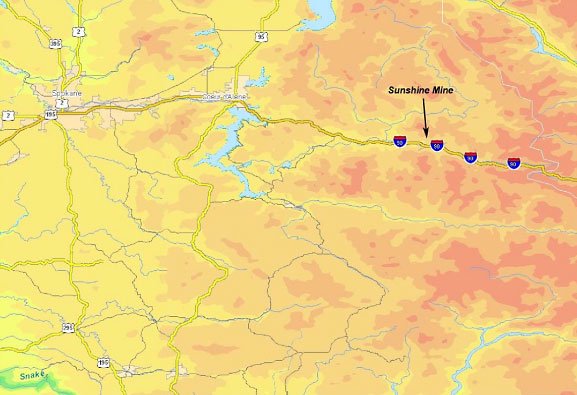 Figure 1-1. Sunshine Mine location.
Created with ArcGIS Desktop Version: 9.3.1.
2. Remedial Action and Technologies
At the Sunshine Mine, the primary impacts are from iron and manganese. Affected media include surface stream water (e.g., stream, rivers, runoff, drainage) and surface pool water (e.g., lakes, ponds, and pools). Reclamation of the site falls under the provisions of the Clean Water Act (CWA). Site cleanup goals are based on the mitigation of human health risk and mitigation of ecological risk. The primary treatment technology in place at the Sunshine Mine is chemical precipitation, including manganese removal from mining-influenced water (MIW) through lime neutralization and oxidation with the rotating-cylinder treatment system (RCTS) system. The RCTS was first tested in a pilot scale for manganese removal from water due to mine dewatering operations but is now a full-scale operation. Chemical precipitation has been operating since May 2007 and is expected to be in operation for as long as mine dewatering continues. The quantity of affected water being remediated is approximately 230–920 gallons per minute.
3. Performance
Performance criteria consist of manganese removal from solution through lime neutralization and oxidation with the RCTS system. The performance applicable standards are CWA removal of manganese. It was discovered that the RCTS was effective at oxidizing and precipitating manganese with limited concentrations of iron. A single RCTS-60HS (600-gal capacity) unit was effective in reducing manganese concentrations from 30 to 0.05 mg/L with less than 3 minutes residence time in the system (with a flow rate of about 230 gallons per minute).
4. Costs
Cost of activities at these site are reported as a total:
Capital: <$150,000
Operation and maintenance: <$50,000
5. Regulatory Challenges
None encountered.
6. Stakeholder Challenges
No information available.
7. Other Challenges and Lessons Learned
None reported.
8. References
No information available.